So, there were about 5 months between the
last
two
Now Playing posts. I'm committed to staying more on top of it now and I have some fantastic new releases to let you know about as well as some older music that I've just added to the collection.
Also, I hope to introduce a new AccuJazz channel playing my favorite new releases. It will be a "Staff Picks" sort of thing, and I'm planning on writing brief reviews of each CD I add to the list. I floated the idea on
FB
and
Twitter
and everyone seemed to be into it. Watch out for it! Artists who send me your stuff: promise not to be sad if you're not on my channel, K?
I've broken up this post into two sections: first New Releases, then older stuff that I added recently. Included are links to purchase the CDs on Amazon as well as info about which AccuJazz channels are playing each CD. All New Releases are playing on the New Releases channel and, most likely, the Main Channel. The double star means I like it a lot.
New Releases:
**Ralph Bowen -
Reverence
(Posi-Tone)
**
Saxophone Jazz, New School, Modern Mainstream, New York
**Gerald Clayton -
Two-Shade
(Emarcy/ArtistShare)**
Piano Jazz, New School, Modern Mainstream, Emerging Voices, New York
Garaj Mahal -
More Mr. Nice Guy
(Owl Studios)
Guitar Jazz, New School, Chicago, Jazz Fusion, Groove Jazz
**Ted Sirota -
Seize the Time
(NAIM)**
New School, Modern Mainstream, Chicago, Give the Drummers Some, Groove Jazz
Gabriel Johnson -
Fra_ctured
(Electrofone Music)
Cutting Edge, Emerging Voices, Modern West Coast, Trumpet Jazz, Jazz Fusion
Billy Cobham -
Palindrome
(Rhythmatix Ltd.)
Give the Drummers Some, Jazz Fusion, Groove Jazz
**Colorlist -
A Square White Lie
(482 Music)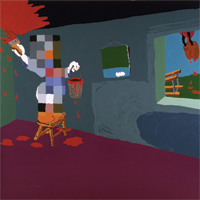 **
New School, Cutting Edge, Emerging Voices, Chicago, Avant-Garde Jazz
Demi-Seq -
By Nature
(Squint Records)
New School, Modern Mainstream, Europe
**Empty Cage Quartet & Soletti Besnard - Take Care of Floating (Rude Awakening)**
New School, Cutting Edge, Modern West Coast, Europe, Avant-Garde Jazz
**Empty Cage Quartet -
Gravity
(Clean Feed Records)**
New School, Cutting Edge, Modern West Coast, Avant-Garde Jazz
Jerry Leake -
Cubist
(Self-Released)
New School, Good Vibes, Give the Drummers Some, Jazz Fusion
Peter Madsen -
The Litchfield Suite
(Playscape Recordings)
Piano Jazz, New School, Live Jazz, New York
Mark O'Connor -
Jam Session
(OMAC Records)
Old School
Univers Zero -
Clivages
(Cuneiform)
Cutting Edge, Europe, Third Stream
Older Releases:
Paul Bley -
Memoirs
(1990, Soul Note)
Piano Jazz, New School, Modern Mainstream, Avant-Garde Jazz
Paul Bley -
My Standard
(1985, Steeplechase)
Piano Jazz, New School, Modern Mainstream, Nothin' But the Blues
Paul Bley -
Not Two, Not One
(1999, ECM)
Piano Jazz, New School, Modern Mainstream, Avant-Garde Jazz
The Pantastic 4 -
Lornabarret
(2007, Upbeat Music Publications)
Latin Jazz, New School, Chicago, Good Vibes, Give the Drummers Some
Cedar Walton -
The Promise Land
(2001, High Note)
Straight Ahead, Piano Jazz, New School, Modern Mainstream
Ari Erev -
About Time
(2008, Self-Released)
Piano Jazz, Modern Mainstream, Europe