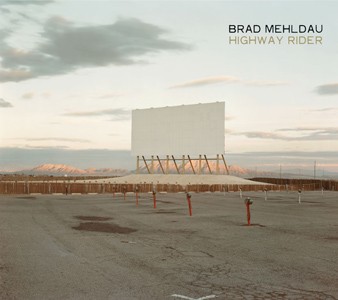 I've been running the show at
AccuJazz
for over 2 years now, so I figure it's high time to start exploiting my position and give special preference to my favorite music. I'll be doing this in the form of the exciting new "Staff Picks" channel. I stole the idea from the record stores, booksellers and libraries who allocate a section of their floorspace to their employees' favorite items. That's sort of what this channel will be like, but since I'm the only staff member, I'll be exercising unchecked authoritarian control over the selections.
The plan is to have 15 of my favorite new releases playing at a time. Each time I update the playlist, I'll write a blog post explaining the thought behind my selections. I'll most likely accompany each new
"Now Playing" blog post
with some additions to the channel.
Before you start reading about the music, you'll probably want to
launch the channel
, won't you?
1) Brad Mehldau -
Highway Rider
(Nonesuch)
As far as I'm concerned, Mehldau can do no wrong. And with
Highway Rider
, he really really did right. I wasn't blown away on the first listen, but I've grown to fall deeply in love with this music, all 103 minutes of it. 2 discs of gorgeous original compositions, played by various combinations of musicians including his longstanding trio, saxophonist Joshua Redman, and a great big orchestra (including a bad-ass contrabassoon used to great effect).
2) Paul Motian / Chris Potter / Jason Moran -
Lost in a Dream
(ECM)
Recorded live at the Village Vanguard, the same place where drummer Motian made some of the
most influential recordings in jazz history
in 1961, this disc is a beautiful statement by a cross-generational group of jazz masters. The music floats along at a curious pace, not quite grooving, but not exactly "free" either. The feel can only be described as "Motian time." The drummer's haunting original compositions comprise most of the selections, with Irving Berlin's "Be Careful It's My Heart" being the lone standard. Props to Potter and Moran for not flexing their considerable chops muscles on this mostly somber date.
3) Jazz at Lincoln Center Orchestra -
Portrait in Seven Shades
(Jazz at Lincoln Center)
While many view
JALC
as the jazz world's version of
"The Man"
, an overbearing establishment force that hogs funding and attention from the rest of the struggling jazz community, one has to admit that their resident orchestra does make some fine music. I'm impressed with
Portrait in Seven Shades
, a 7-song suite composed by JALC saxophonist Ted Nash in homage to 7 great painters, ranging from Monet to Pollock. Nash makes a strong case for his programmatic music, summoning a world of colors and textures from the orchestra. Picasso's movement tastefully incorporates Spanish flamenco rhythms and Matisse is represented by playful swing. An artist friend of mine concurred that Nash did a splendid job of matching sounds to the glorious sights found in these painters' work.
4) Stephan Crump with Rosetta Trio -
Reclamation
(Sunnyside)
Before this CD came along, I only knew Stephan Crump as the bassist in
Vijay Iyer
's excellent groups. Little did I know that he has released four albums under his own name. On his most recent,
Reclamation
, Crump makes a strong case for himself as a composer and bandleader worthy of greater recognition. Joining Crump in his Rosetta Trio is Liberty Ellman on acoustic guitar and Jamie Fox on electric guitar. The 9 original compositions on the CD show off an old school melodic sense, eminently singable, but never cliched. Songs like "Memphis" and "Shoes, Jump," almost have an early-jazz feel, with gorgeous melodies played by Ellman's acoustic guitar and group improvisation that sounds equal parts Dixieland and free jazz. Some other songs, notably "Silogism" and "Overreach," almost sound like they could be covers of alt-rock songs. The stylistic diversity feels anything but unfocused, though.
5) Dave Holland Octet -
Pathways
(Dare2)
On his newest disc, Dave Holland continues his stay in the land beyond the quintet. 2008's "Pass It On" was his first non-quintet, non-big band release in over a decade. On Pathways, Holland seems to have found a happy medium between the small group and the big band, using his stable quintet as the core and adding two more saxes and a trumpet to make a sort of "little big band." The music is classic Holland, with funky-but-not-danceable bass grooves, hard-hitting drumming, and super-tight horn parts. The repertoire is made up of Holland originals old and new, and also makes room for his sidemen's compositions, including saxophonist Chris Potter's "Sea of Marmara" and trumpeter Alex Sipiagin's "Wind Dance." Recorded live at Birdland in January '09, there's a fiery energy to the performance that is sometimes lacking in Holland's polished studio dates.
6) Chicago Underground Duo -
Boca Negra
(Thrill Jockey)
This record is what happens when you take two musicians with seriously wide-ranging musical interests, put all sorts of implements in their hands (trumpet and drums, yes, but also flutes, laptops,
mbira
, and an array of synthesizers) and let their imaginations run wild.
Boca Negra
is a testament to the true worth of freedom in music. Trumpet player Rob Mazurek and drummer Chad Taylor have been collaborating in the Chicago Underground collective for over a decade now, and they're a long way from running out of new ideas.
Boca Negra
showcases everything from the acoustic free jazz of "Green Ants" to world-jazz/ambient vibe on "Left Hand of Darkness" and the dark funk of "Spy on the Floor." Makes me sad that they don't live in their eponymous city anymore.
7) Orrin Evans -
Faith in Action
(Positone)
I immediately had high hopes for this one when I saw that Nasheet Waits was behind the drums. Waits is one of my favorite drummers, and I feel a special connection to him because he once played a gig with Peter Brotzmann on my drums (my
rock
drum set, too -- long story).
Faith in Action
's first track, a quirky, rhythmically knotty Evans original called "Don't Call Me Wally," is a perfect vehicle for Waits' liberated drumming style and made me an instant fan of the album. I still consider the lead-off track to be the strongest on the album, but there are plenty of highlights along the way, with half of the album's compositional credit going to Evans' one-time mentor, alto saxophonist/composer Bobby Watson. Everybody involved in the session is on fire, including two guest drummers, Rocky Bryant and Gene Jackson, who each play on a track apiece.
8) Polar Bear -
Peepers
(Leaf)
Polar Bear is a genre-defying group of young London-based musicians led by drummer Sebastian Rochford, known for his drumming chops, imaginative compositions, and
incredibly large hair
. Polar Bear's music could be considered "post-jazz" along the lines of the Claudia Quintet, Kneebody and fellow Londoners Led Bib, but to my ears there's much more of a punk aesthetic at play here.
Peepers
' opener, "Happy for You," is full of harmonic and rhythmic twists and turns a la Claudia, but there's also a heavy dose of rock, with Leafcutter John's jangly, semi-distorted guitar providing the harmonic foundation. Other tunes reference African rhythms, surf rock and free jazz, but throughout it all the band maintains a singular sound that is all their own.
9) Lionel Loueke -
Mwaliko
(Blue Note)
Lionel Loueke seems to have taken a cue from his sometime employer Herbie Hancock, who has adopted the all-star, cameo-heavy approach to his albums as of late. On
Mwaliko
, Loueke's second disc for Blue Note, the guitarist pairs up with a handful of big-name duet partners and also offers some tracks with his excellent longstanding trio. Two tracks with famed vocalist (and fellow native of Benin) Angelique Kidjo are joyous anthems, simple on the surface, but embellished through empathetic collective improvisation. The two tracks with vocalist/bassist Richard Bona are not to my liking, more new-age than jazz or "world." Loueke's two duets with vocalist/bassist/it-girl Esperanza Spalding are impressive exercises in orchestration, using the two musicians' voices and instruments like a small orchestra. Loueke and drummer Marcus Gilmore improvise over Wayne Shorter's "Nefertiti," taking plenty of chances rhythmically, but never quite catching fire.
10) Little Women -
Throat
(AUM Fidelity)
To quote NPR's
Patrick Jarenwattananon
, "There are no women in Little Women, and their sound is not little." Tru dat. This is state-of-the-art avant-garde noise, often ruthlessly violent, occasionally beautiful. Comprised of saxophonists Travis Laplante and Darius Jones, guitarist Andrew Smiley and drummer Jason Nazary, Little Women have crafted a seven-part suite they call
Throat
. While the music sometimes sounds chaotic on the surface, there is high-minded concept behind every note, with improvisation often seamlessly leading to ensemble passages, saxophone duets that build to emotional climaxes, and all sorts of sounds that you never knew saxophones or guitars were capable of creating. Check out this post on the
Destination Out
blog, where you can listen to the first movement of the suite and read an articulate and informative self-penned explanation of the band's M.O.
11) Michael Musillami -
Old Tea
(Playscape)
Old Tea
is Michael Musillami's dedication to the memory of his son Evan, who took his own life in March of 2009. The title comes from a highly treasured variety of tea that the guitarist hoped to share with his son but was never able to (Musillami and his son had a special bond over their love of fine tea). It's tough to not let the heartbreaking back story affect your perception of the music, and I'm OK with that. Music is many things to many people, but one of those things is heartfelt personal expression, and this music is indeed beautiful and expressive. Performed by his longstanding trio of Joe Fonda on bass and George Schuller on drums, the 11 compositions are intricately composed modern jazz that make room for adventurous and, of course, expressive improvisation.
12) Trombone Shorty -
Backatown
(Verve)
Generation Y jazz superstars like Aaron Parks and Christian Scott have crafted an appealing and distinct sound informed in part by a fusion of post-Wayne Shorter modern jazz and moody rock/pop by the likes of Radiohead and Portishead (pretty much, British groups ending in "head"). Trombone Shorty is another force in of-the-times jazz fusion, but the sources he's pulling from are entirely different: New Orleans brass band music and mainstream pop/rock. When Backatown steers more heavily towards the power-chord heavy rock end of the spectrum, I lose interest, but when he stays a little closer to his NOLA roots, I'm all ears. Tracks like "Hurricane Season" and "In the 6th" feature balls-out brass blowing over meticulously crafted beats that groove like mad. Can't argue with that.
13) Dan Weiss -
Timshel
(Sunnyside)
My first exposure to drummer Dan Weiss was in person, at a clinic he gave while I was a jazz student at Northern Illinois University. He came off as a very serious, dedicated, and possibly self-righteous person, so completely wrapped up in his art that it would make sense for him to be the last person on earth to find out who Justin Bieber is. Weiss' disciplined, academic approach to music runs the risk of registering as detachment, but that doesn't happen on
Timshel
. A huge step forward from his trio's first album,
Now Yes When
, the disc is full of epic chamber jazz that uses every tool at the composer's disposal to great emotional effect. Rhythmically, harmonically, formally and conceptually,
Timshel
is ambitious and successful. Every song goes for an aesthetic of heartbreaking beauty, layering melancholy melodies over dense, mysterious harmonies and a dissertation's worth of complex rhythms no doubt informed by Weiss' extensive study of Indian
tabla
. The discipline and hard work has clearly paid off.
14) Thomson Kneeland -
Mazurka for a Modern Man
(Weltscmerz Records)
I found out about New York-based bassist/composer Thomson Kneeland from the artist himself, who contacted me directly through email. Being a working musician myself, I tend to give sole proprietors like Kneeland the benefit of the doubt, almost always giving them the green light to send a CD but never expecting much. I was pleasantly surprised by Kneeland's
Mazurka
, an engaging album of modern jazz claiming to have influences including 20 Century Chamber composition, Indian Karnatic music, Balkan folk music and heavy metal among others. The music doesn't sound nearly as unfocused as that laundry list of influences would lead you to assume, though. Some of the tunes have a vibe reminiscent of the great music created by Kurt Rosenwinkel and Mark Turner, but Kneeland has definitely found his own voice as a composer, and his band does a fine job of amplifying that voice. It should be noted that
Mazurka
is also dedicated to a suicide victim, Take Toriyama, the drummer on the date and one of Kneeland's closest friends.
15) Dave King -
Indelicate
(Sunnyside)
Most of you probably know Dave King as the live wire behind the drum set in post-jazz superstars
the Bad Plus
. Less of you may know of my passionate love for the Bad Plus and anything any of their members are involved with. Naturally, I was extremely interested to hear King's debut solo album. It's a duo project between Dave the drummer and Dave the pianist (brought together through the magic of overdubbing). While some of the songs on
Indelicate
exhibit the same bright-eyed poppiness of King's contributions to TBP's oeuvre, a good portion of them are challenging studies of abstruse rhythms and near atonal melodies. It takes a lot of listens to start hearing the beauty in labyrinthine compositions like "Bees," but it's a worthwhile journey. My vote for best song on the album is "Arts High Boogie," which successfully fuses King's accessible melodicism with his love for the oddball and complex. Also: best cover art of the year, so far.